It is the minimum number of edit operations to transform one document to another. Changes allowed are:
Add a letter
Remove a letter
Replace one letter by another
Document Similarity
Edit
Given two documents, how similar are they?
Plagiarism detection
Checking changes between versions of code
Answering web search queries more effectively
How do we compute it?
Edit
Brute Force
Edit
Delete all of the first document. Add all of the second document.
Impossibly Inefficient.
Naive Solution
Edit
Make the first character in both documents same. Explore all possible edit operations to do the same. Recursively fix the rest of the document.
Naive solution is inefficient as the same problem is solved recursively many times.
Dynamic Programming
Edit
Making recursive computations efficient by ensuing that each subproblem is computed only once.We store and look up answers to already solved subproblems.
Quite efficient.
Needleman-Wunsch's Algorithm
Edit
Consider two strings A[1 ... n] and B[1 ... m]. We define V(i,j) to be the score of alignment between A[1 ... i] and B[1 ... j] and score(A,B) is the score if a character A is aligned with character B.
Best case:
V(0,0) = 0 // no score for matching 2 empty strings

Recurrences: For i>0 and j>0:
V(0,j) = V(0,j-1) + score(-,B[j]) // insert space j times to make alignment
V(i,0) = V(i-1,0) + score(A[i],i) // delete i times to make alignment
V(i,j) = max(option1,option2,option3), where
  option1 = V(i-1,j-1) + score(A[i],B[j]) // score of match or mismatch
  option2 = V(i-1,j) + score(A[i],-) // delete
  option3 = V(i,j-1) + score(-,B[j]) // insert


In short, this DP algorithm concentrates on three possibilities for the last pair of characters, which must either be a match/mismatch, a deletion, or an insertion. Although we do not know which one is the best, we can try all possibilities while avoiding re-computation of overlapping subproblems (i.e. basically a DP technique).
With a simple cost function where a match gets a +2 point and mismatch, insert, delete all get a -1 point, the detail of string alignment score of A = 'ACAATCC' and B = 'AGCATGC' is shown in the figure below. The alignment score is 7 (bottom right).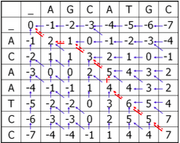 String Alignment Example for A = 'ACAATCC' and B = 'AGCATGC' (score = 7)
Follow the dashed (red) arrows from the bottom right cell to reconstruct the solution. Diagonal arrow means a match or a mismatch (e.g. the last 'C'). Vertical arrow means a deletion (e.g. .. CAT.. to ..C_A..). Horizontal arrow means an insertion (e.g. A_C.. to AGC..).
A = 'A_CAAT[C]C'
B = 'AGC_AT[G]C'

As we need to fill in all the entries in the table of n X m matrix and each entry can be computed in O(1), the time complexity is O(nm). The space complexity is O(nm) = the size of the DP table.
Variations
Edit
Interested in only the meaning of the document
Focus on words
Documents are near if they overlap in many words

Order in which words occur may not matter
Useful for topic based web search
Can have dictionary of "similar" words